Details

Category: Projects
Published: Thursday, 10 November 2016 23:30
A modification of the Live Google Traffic Map with JamCam images project.
At the end of October 2016, the TfL XML feed was modified and lost over 700 camera locations. This forced me to look into a long overdue upgrade.
Previously using an XML feed, the whole process required rewriting to interpret the JSON standard that TfL have adopted.
This map now lists over 900 camera locations and supplies 10 second mp4 video files rather than static images.
NOTE: Internet Explorer does not support the IFRAME method and attempts to download the file instead of play it. Typical!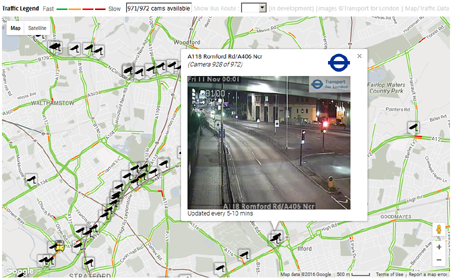 ---